Social Impact Investing
The Rise of Socially Conscious Investing Strategies
The acronym SRI has come to represent various investment strategies that favor companies with business practices generally viewed as socially responsible, ethical, and/or sustainable. These buzzwords are often interchangeable, but investor interest in SRIs overall is gaining momentum.
In fact, U.S. assets invested according to SRI principles grew to $6.57 trillion at the beginning of 2014 — up 76% from 2012 — and accounted for a significant share (18%) of professionally managed assets.1 
Recent studies have shown that SRI stocks and mutual funds as a group tend to perform similarly to the broader stock market over the long term, even though performance may diverge over shorter periods. Over the past decade, SRI funds have returned 7.38% annually compared with 7.88% for the S&P 500 index.2  
Of course, individual investors may have different opinions about which policies and practices have a positive or negative impact on society. As the number of SRI options continues to expand, so does the opportunity to build a portfolio that aligns with your personal values, as well as your asset allocation, risk tolerance, and time horizon.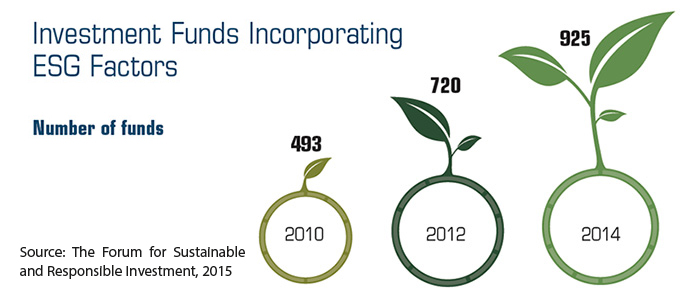 Spotlight on Sustainability
Various services that provide research and ratings for investment analysis have begun to verify and publish environmental, social, and governance (ESG) data associated with publicly traded companies. Money managers who use SRI strategies often integrate ESG factors with traditional financial analysis. Some examples of ESG issues include pollution control, natural resource conservation, product safety, employee relations, respect for human rights, regulatory compliance, and public disclosure.
The heightened focus on corporate sustainability issues allows investors to compare how businesses in the same industry have adapted to meet social and environmental challenges, and provides some insight into which companies may be exposed to risks or have a competitive advantage. In some instances, good corporate citizenship may boost a company's public image and help create value, whereas poor decisions made for the sake of short-term results could cause more expensive damage in the future.
SRIs of All Stripes
Screening is a common approach used to select or avoid investments in companies based on ESG concerns. For example, SRI asset managers may seek out companies with positive ESG ratings and/or exclude companies that engage in questionable employment practices, invest in countries with poor human rights records, or profit from undesirable products or services (e.g., tobacco, alcohol, gambling, weapons).
Many SRI mutual funds are broad based and diversified. Some are actively managed and others track a particular index with its own universe of SRI stocks. Specialty funds, however, may focus on a narrower theme such as clean energy; they can be more volatile and carry additional risks that may not be suitable for all investors. It's important to keep in mind that different SRI funds may focus on very different ESG criteria, and there is no guarantee that an SRI fund will achieve its objectives.
As with all stock investments, the return and principal value of SRI stocks and mutual funds fluctuate with changes in market conditions. Shares, when sold, may be worth more or less than their original cost. The performance of an unmanaged index such as the S&P 500 is not indicative of the performance of any specific security. Individuals cannot invest directly in an index.
Mutual funds are sold by prospectus. Please consider the investment objectives, risks, charges, and expenses carefully before investing. The prospectus, which contains this and other information about the investment company, can be obtained from your financial professional. Be sure to read the prospectus carefully before deciding whether to invest.
1) The Forum for Sustainable and Responsible Investment, 2015
2) The Wall Street Journal, July 17, 2015
The information in this article is not intended as tax or legal advice, and it may not be relied on for the purpose of avoiding any federal tax penalties. You are encouraged to seek tax or legal advice from an independent professional advisor. The content is derived from sources believed to be accurate. Neither the information presented nor any opinion expressed constitutes a solicitation for the purchase or sale of any security. This material was written and prepared by Emerald. Copyright 2016 Emerald Connect, LLC.